Madrid, the capital city of Spain is situated just north of this province. The vibrant atmosphere, splendid nightlife and astonishing architecture make it one of the top tourist destinations of the world.
It was in Spain that the concept of Tapas was born. It is believed that tapas were originally brought into the picture as a piece of thin bread or meat served to customers with their Sherry to ward off flies while they sat sipping on their glass of wine. But today these edible glass lids have evolved to become gastronomical wonders. From exquisite olives, cheese and charcuterie to egg and seafood preparations and elaborate tarts and cold or hot bite-sized snacks, tapas form an integral part of the Madrid bar-food culture and are now a cuisine in themselves. The city of Madrid with its incredible night life is dotted with tapas bars on each and every street.
Hence exploring the wine region of La Mancha can be an exciting plan if you embark on a Madrid tapas tour and wine excursion. On a typical wine and tapas tour, Madrid welcomes you to visit the Mercado de San Miguel under the roof of Madrid's oldest market offering stunning delicatessen products; discover specialized chocolate stores or indulge at Madrid's leading wine store where you can choose a glass from an impressive variety of reds and whites from the La Mancha wine region.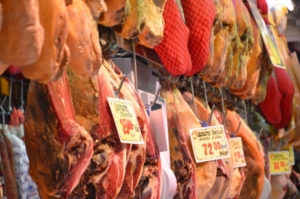 Not too far away from the heart of Madrid, you will find a number of Iberico ham producers offering their best products for tasting and sale. A jamon tour to these workshops will take you through the production process right up to pairing this sinfully delicious meat with locally produced manzanilla sherry and lots of wine!
From cellar tours and tastings at traditional wineries to epicurean city tours, the city of Madrid will take you on an unforgettable gastronomic adventure. Contact our local travel experts to have a remarkable wine holiday and Madrid food tour tailor-made for you!
If you're interested in one of our Spain Wine Tours, please visit this link.