As a map of Bordeaux wine regions attests, the region is exceptionally well developed for wine tourism, whether for beginners or connoisseurs, with almost 7,500 producers and close to 10,000 different Bordeaux wines accompanied by stunning chateaux and wineries that line the countryside.
Although Bordeaux was originally revered for its sweet white wines from the sub-region of Sauternes, over 90% of Bordeaux wines are now red – the red Bordeaux blend is one of the most imitated around the world and includes Cabernet Sauvignon, Merlot, Cabernet Franc, Petit Verdot and Malbec (with small amounts of Carménère). In terms of the Bordeaux wine region map, Cabernet Sauvignon is generally featured more heavily in blends on the Left Bank of the Gironde river, while the opposite Right Bank tends to carry a preference for Merlot – there are 57 appellations across both, playing host to 7,000 wine producing chateaux and 13,000 growers.
The Bordeaux wine region extends 60 miles around the city along three rivers – the Gironde, Garonne and Dordogne – of Europe's largest estuary to create an ideal setting for wine making that is complemented by a temperate climate with a short winter and high levels of humidity courtesy of the nearby Atlantic Ocean.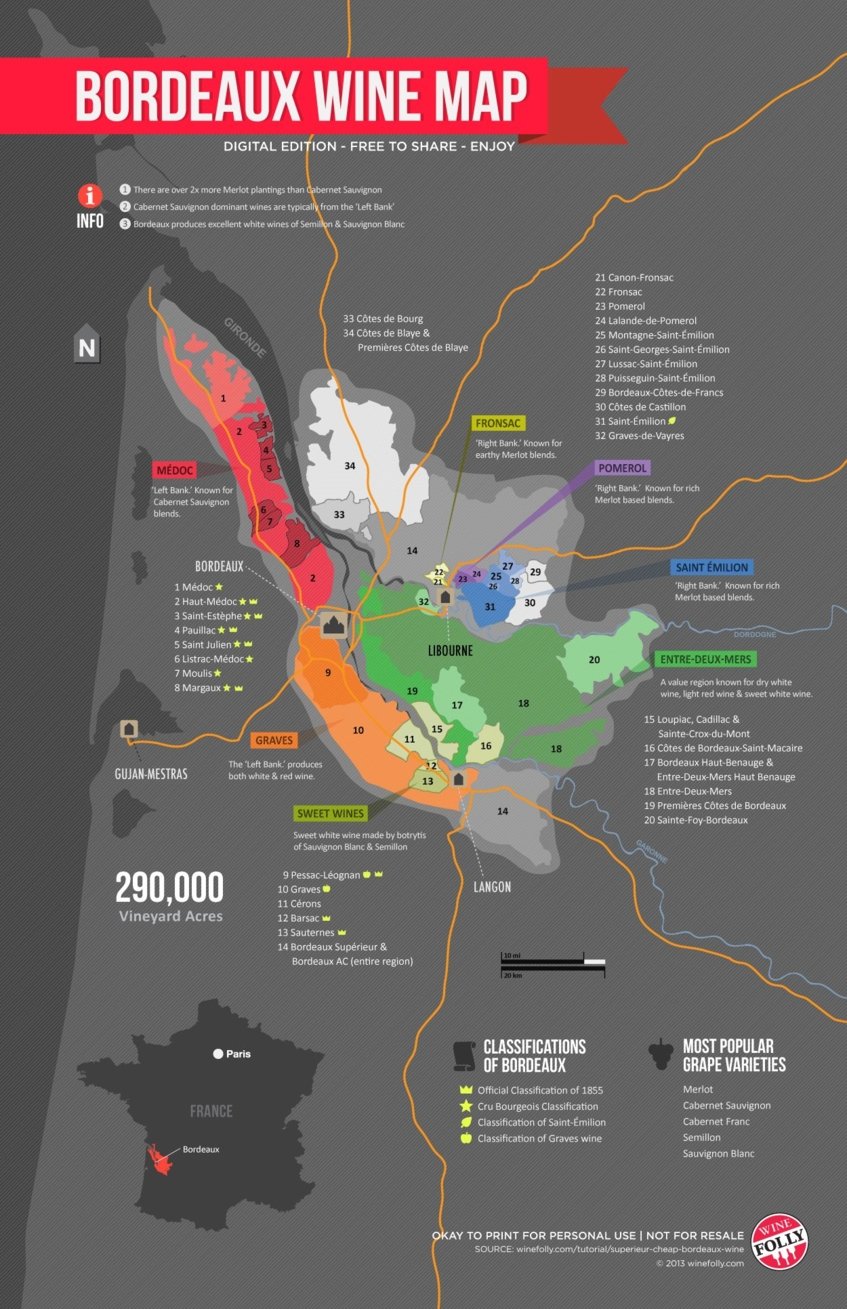 Following the Gironde on the map of Bordeaux wine regions, it flows southwards from the Atlantic at Pointe de Grave towards the city. The Left Bank opens up to the appellations of Medoc and then consecutively St Estèphe, Pauillac, St Julien, Listrac Médoc and Moulis en Medóc futher inland, and Margaux – with Haut Medoc extending along half of the peninsula.
At Margaux, the Gironde divides into two rivers: the Garonne flows south past the appellations of Pessac Leognan, Cadillac, Graves, Cérons, Barsac, Loupiac, St Croix du Mont and Sauternes; while the Dordogne heads west through Côtes de Bourg, Fronsac, Pomerol, St Emilion and its 'satellites'. In between these two rivers lies the Entre-deux-mers white wine region. While the Left Bank of the Bordeaux wine map is home to countless extravagant chateaux, the Right Bank is generally considered more naturally beautiful with St Emillion, despite its confusing classification system, and Pomerol drawing the most attraction.
At Wine Paths, our local experts can devise customised tours that allow you to visit practically anywhere on the Bordeaux wine region map. Among our many offerings is an eight-day tour of Bordeaux and the Basque country, which includes exploring the UNESCO-listed city of Bordeaux, the iconic Medoc region, Saint Emilion's picturesque village, Arcachon Bay, Biarritz and the Basque countryside all while taking in the region's food, wine and traditions.
For shorter stays, there are single day tours of Bordeaux, which include a tasting at an iconic wine boutique in the heart of the city, or an opportunity to wander around medieval St Emilion and its surrounding vineyards. More adventurous visitors can plot their way through a map of Bordeaux wine regions while travelling by helicopter before landing at one of the Grand Cru properties for a private visit and tasting.
Visit our Bordeaux destination guide for more information before planning a trip to experience the dazzling jewel in France's wine making crown.
If you're interested in one of our Bordeaux Wine Tours, please visit this link.
Map: Wine Folly.com