Italian wines: what to expect
If you are planning a wine trip to Italy, you are in luck: the country is the number one wine producer in the world so you can rest assured that there will be enough vino to quench your thirst while traveling around Europe's "boot".
There are twenty wine-making regions in Italy and around 350 official Italian wine varieties - in fact, it is believed that over 2,000 different Italian grapes exist!
A wine trip to Italy guarantees breathtaking landscapes, mouthwatering regional food and incredibly delicious wines wherever you go so read on and take your pick at which Italian wine regions you want to visit during your next holiday in the country of la dolce vita.
Italian wines: law-abiding and outlaws
Just like France or Spain, Italian wines are classified according to their quality. The two highest tiers on the scale are: Denominazione di Origine Controllata or D.O.C. ("Controlled Designation of Origin") which currently includes 334 different designations and Denominazione di Origine Controllata e Garantita or D.O.C.G. ("Controlled and Guaranteed Designation of Origin") with 74 designations. All the wines included in these two categories are "law-abiding" in that they follow the regulations imposed by the Italian Ministry of Agriculture. There are, however, other Italian wines (the "outlaws") that do not conform to the strict rules of the classification but are of an extremely high quality nonetheless; they are known in the wine world simply as "Super Tuscans".
In the 1970s, some producers in Tuscany rebelled against the restrictive legal rules governing the production of Chianti. They coined the term "Super Tuscan" to distinguish their wines from the inexpensive, low-quality wines that were associated with the term vino da tavola ("table wine") that they were forced to put on the label.
In time and thanks to their consistent high-quality, many of these became cult wines; in fact, two of the most acclaimed Italian wines are Super Tuscans: Antinori's Tignanello and Tenuta San Guido's Sassicaia.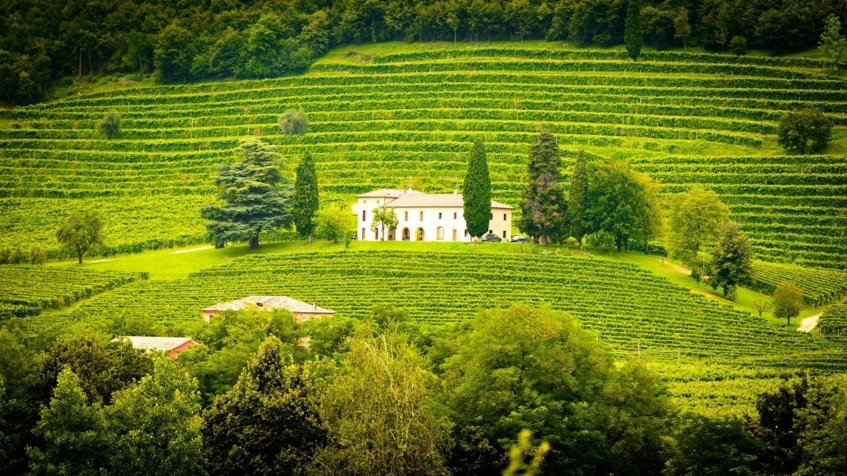 Wine regions of Italy: the holy trinity
When planning your next trip to Italy, keep in mind that although vino is made in all twenty wine regions of Italy, there are three major ones that produce the highest quality drinking wines in the country: Tuscany, Veneto and Piedmont.
TUSCANY
Located in the heart of Italy, Tuscany offers some of the most recognized and beautiful landscapes in the world. Undulating green hills, olive groves, vineyards and sunflower fields seem to wave at you on each side of the road as you make your way down…
Tuscany is home to arguably the most famous Italian wine region, Chianti, but also to Brunello di Montalcino and Vino Nobile di Montepulciano, all of which are primarily made with the equally renowned Sangiovese grape. Tuscany is also known for the dessert wine Vin Santo, made from a variety of the region's grapes and traditionally served with hazelnut biscotti.
Chiantis, Super Tuscans, unique whites (like Vernaccia di San Gimignano) and even a "holy wine" (Vin Santo): all of this and more is what the Italian wine region of Tuscany has to offer. You simply can't leave it out of your wine trip planning.
VENETO
Veneto produces approximately 20% of the country's highest ranked wines making it the biggest DOC producer in Italy. This Italian wine region is home to the Soave (white made mostly of Garganega grapes), Prosecco (which although widely known as sparkling wines can also be dry), Amarone della Valpolicella and Bardolino wines.
Wine is extremely important and present in the entire region: one of Italy's leading wine schools, Conegliano, is based in Veneto and the nation's most important wine fair, Vinitaly, takes place each spring in Verona.
PIEDMONT
The best-known wines from the Piedmont include Barolo and Barbaresco. They are both made from Nebbiolo, a grape with high tannins that evolve beautifully when aged properly. If you appreciate a good glass of red, don't miss out on visiting Piedmont. In addition to these great reds, this Italian wine region is also known for its local sparkling wine: Moscato d'Asti.
The other wine regions of Italy: some tips
The remaining seventeen wine regions of Italy altogether produce almost the same amount of DOC wines as the main three. Here are some quicks facts to keep in mind when visiting them (NB: this is not an extensive list):
TRENTINO ALTO-ADIGE: Elegant white wines made from Pinot Grigio, Pinot Bianco, Gewürztraminer and Müller-Thurgau and refined sparkling wines.
LOMBARDY: Visit star-studded Lake Como and drink Franciacorta sparkling wines.
EMILIA-ROMAGNA: Pairing heaven with Parmiggiano cheese and Lambrusco wine.
LIGURIA: Perfect seafood wine. If you stop by Portofino, ask about the Abissi wines: bottle-fermented sparkling wines aged in cages in the bottom of the sea.
ABRUZZO: Delicious dark, rich red wines with high tannins made from Montepulciano grapes.
PUGLIA: Go all the way to the heel of the "boot" for amazing valued, fruit-forward red wines made with Negroamaro and Primitivo grapes.
SICILY: Discover the largest Mediterranean island and its ancient history and rejoice in the fact that warm climate makes for dark, rich and fruity red wines from Nero d'Avola grapes. For the adventurous, you can also visit the majestic Mount Etna, one of Europe's highest active volcanoes.
Salute e buon viaggio!
If you're interested in one of our Italy Wine Tours, please visit this link.