The Scotch whisky regions map can be illustrated with the help of these areas:
Highlands
The stills used in the Highlands region are rather small, they allow heavy products, such as oils, to go to the final distillate. This confers on these whiskeys a very wide aromatic palette. Central Highland whiskeys are sweeter and less peaty than those in the north. They are distilled in establishments like Dalwhinnie, in the village of the same name which is famous to draw its water from local sources in a region where peat bogs are very numerous.
Lowlands
This whiskey region of Scotland near Glasgow also enjoys very favourable barley growing conditions, the Lowlands whiskey industry has developed high capacity stills that are characterized by a light and floral distillate through prolonged contact with copper stills. This character has also been reinforced by the practice of triple distillation.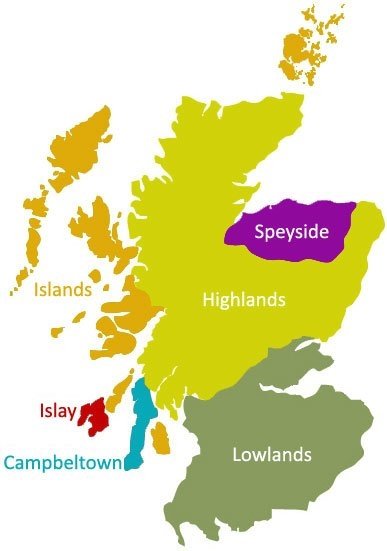 Scotland Whisky regions map (courtesy of https://www.scotlandinfo.eu/)
Speyside
The Speyside area (named referring to the Spey River) is bounded by the Findhorn River to the west and Deveron River to the east. Most of the distilleries in this Scottish whiskey region draw their water from the tributaries of the Spey: Fiddich, Livet or Avon. This region, which is geographically part of the Highlands, is the main Scotch whiskey production centre.
Islay Islands
The eight Islay Islands distilleries produce iodized whiskeys that are generally very peaty but some distilleries also, however, produce whiskeys less marked by peat.
Campbeltown
Only two distilleries remain in this small specific area of the South Highlands. These are iodized whiskeys intermediate between Highland and Islay.
The whiskey regions in Scotland, with their distinct production processes and governing laws produce some incredibly special and diverse products. These whiskeys are known all over the world for their quality and delicious aroma characteristics.
Taste these delectable whiskeys and roam discover the most beautiful nooks and corners on the Scotch whiskey regions map on an exclusive whiskey excursion with the help of our local travel expert in Scotland.